Live music—a panacea for all life's problems.  The lights dim, the room's packed and you can smell the person next to you because the crowd is pressing in on you from all sides in that dingy little dive-bar basement, and you're ready to lose your shit…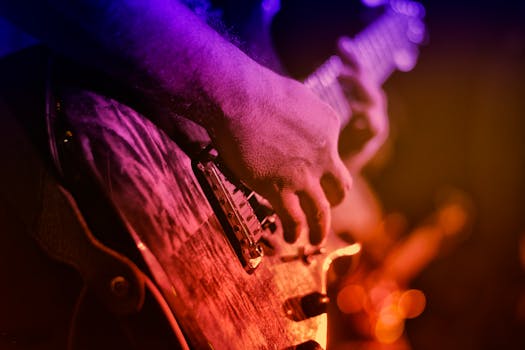 And then the stage lights flicker as that opening chord is struck, that high-E rings out its Siren call; the bass drum kicks to life and it's felt more than heard—in fact, you can feel your heartbeat synchronizing—the stage lights flash alive, you're momentarily blinded as the band pitches forward like a ship caught in a storm and, feeling yourself lurch forward in time with the music, you forget all about how the guy next to you could use a shower: You're enthralled—swallowed up—and you will be until the show's over (or you need a cigarette).
At least, that's what it's like for me.  And I hope it is for you, as well.  So, here are five concerts I would attend, if I weren't broke.
5. Sublime W/ Rome and The Offspring—9/2 @ 7pm, Huntington Beach Pavilion (Northerly Island)
Sublime W/ Rome is a far stretch from the tortured and, at times cheeky, genius of Bradley Nowell.  Tending toward the reggae end of the ska spectrum, they're not without their own unique charm.  Fronted by guitarist/singer Rome Ramirez, backed-up by original Sublime bassist Eric Wilson and former Tribal Seeds drummer Carlos Verdugo, their sound leans more heavily on reggae, hip-hop and dub, as well as the occasional Sublime cover.  This show isn't so much a must-see for me—it would, however, be a fantastic time.  If you haven't heard of them, this is my favorite song by the group: "Take It or Leave It."
As far as The Offspring go, I don't think I need to say much.  With their creative, mad-cap blend of post-/pop-punk/alt-rock/ and that emblematic '90's angsty juvenile vulgarity—or 'anti-ness'—they'll certainly bring a raucous rockability to counter the mellow 'good vibrations' of Sublime W/ Rome.
And if you're not in the Chicago-area, they've embarked on 2017 tour of North America.
While I can't say I'm well-versed in the Matchobox Twenty oeuvre, and my knowledge of The Counting Crows is limited, I have a hard time believing this show would be anything but money well-spent.
Songs like "Round Here" and "Hanginaround"—which sounds like a summer day where the Sun rolled out of bed late, hungover, and decided to 'wake-and-bake'—are enough for me to happily pay to see the Counting Crows.  Matchbox Twenty is just an added bonus.  Counting Crows' front-man Adam Duritz is well-known for keeping live performances fluid and energetic, reworking and ad-libbing songs as he performs them and occasionally incorporating more than a couple of the groups songs into an extended mash-up.  Cover versions of other artists' songs are to be expected, for instance, Joni Mitchell's "Big Yellow Taxi."
Tip: You may want to bring a fully-fueled Zippo, as there are sure to be a number of long, jam-y, anthemic songs that just beg the synchronized undulations of the crowd as a singular, lighter-wielding constellation.
3. That 1 Guy—9/7 @ 7pm, Reggie's Rock Club
I'm not really sure what to say about this guy—I've seen him at least twice, playing to a sardine-canned crowd on the barn stage at Camp Euforia—a small festival just outside Iowa City (The University of Iowa).  And while my memory's a bit hazy, I say with the full, if somewhat inconsiderable, weight of my words that this is an artist worth checking out.
Born Mike Silverman and based out of Vegas, he is truly a one-man band.  Toting what he calls "The Magic Pipe"—a homemade instrument consisting of metal pipes, a string or two, and whole host of one-of-a-kind 'bells and whistles', he plays an eclectic, eccentric fusion of experimental funk, jazz, and, well, experimental music as he sings, hoots, and hollers, deftly wielding a near-seven-foot-tall contraption, swinging it to-and-fro to create unique, and often just bizarre, sounds.  Stamping his foot and keeping the beat on the metal-pipe framework of his seemingly incongruous instrument, he creates a tribal, guttural dance beat that evokes something of the eerily haunted, and which I can honestly say I've never, ever, ever seen or heard anything quite so surreal and, above all, entertaining.  So if you have nothing better to do September 7th—or even if you do—I highly suggest heading down to Reggie's on South State Street to check That 1 Guy out—you won't be disappointed.
Ah, the blues—what's left to say? I mean, it's basically the foundation of every genre of music we listen to today, (even if it has been junked, stripped, and sold for parts).  It is probably the most enduring style of music, and yet it never gets its due credit.  With the exception of the blues revivlists in the sixties, most blues musicians only gained notoriety posthumously.  For many, life was full of abject failure and debilitating hardship—which, of course, one could argue, is the life-blood necessary of blues prodigy.  That's a hair-tearing catch-22 if ever there was one.
For those of you even anecdotally aware of still-living blues legends, Taj Mahal should be an easily recognizable name.  More than simply a blues musician, Taj incorporates West African, Caribbean, and jazz elements into his music, creating a visionary's blend of styles.  His resume speaks for itself, having played alongside the likes of Howlin' Wolf, Buddy Guy, The Rolling Stones, and John Mayer, to name but a few.
Perhaps somewhat less notorious is Keb' Mo'.  Active since the early '80's, he's gone the way of so many other blues greats—into nominal obscurity.  Which, if I may say so, is a damnable injustice.  A herald of the Delta blues, he mixes country and good old Americana in an aching, heartfelt yet illusory voice that harnesses the turmoil and pain of such greats as Chicago bluesman Robert Johnson ("Come On In My Kitchen" and "Kind Hearted Woman Blues"—both of which he covers), Leadbelly, and, shockingly, Taj Mahal.
While not a big name in the music world—as though that's a goal worth striving for these days—among (real) musicians he's considered among the elite for the considerable talent he wields.  I suppose it's the prescribed fate of a blues musician—since time immemorial—to remain on the fringes of obscurity while being acknowledged among the 'Greats' by the 'Greats'.
With a vast repertoire of original songs and covers, my indefatigable favorite is "Am I Wrong?"—a fast-paced, rollicking blues number full of sleazy guitar slides and lascivious, percussive string slapping.  It's exactly the sort of carnal, impudent pleasure that defines the blues—to start your feet tapping, head bobbing, and thumbs drumming on the bar as you wait while the bartender slips out back for another Mason jar of moonshine to waylay your troubles, however finitely.
And now for the show I would most like to attend, were I not just another broke sap trying to make a living writing: Umphrey's McGee.  I have a bitter taste in mouth since I was supposed to see them at, I believe, the Aragon to ring in 2017, but plans fell through at the last minute.
Umphrey's best codifies my personal music tastes.  Considered a jam band, they do love their extended improvisations, but categorizing them alongside artists such as The Grateful Dead and Phish would be too limiting.  Think Pink Floyd's Animals or The Wall and that's about as close as I can get to a comparison.  Sporting elements of blues, funk, folk, all genres of rock, and EDM—infused with a heavy dose of sweeping, spacious prog-rock and ambient soundscapes—Umphrey's music is totally and utterly immersive, to the point of almost being oppressive.
Their most recent release, Zonkey, is, much in keeping with the title, a hybrid mash-up of various songs by various artists, including Metallica, MGMT, Michael Jackson, Eddy Grant, and Phil Collins—(who I'd just as soon see never record another record, and to never be allowed to bastardize Clapton's—or any other worthwhile artist's—music ever again).  Culling parts from anywhere between two and four radically different songs, they often transpose the lyrics from one onto the instrumentals of another in a way other 'artists' who utilize 'sampling' could only dream of.  Here is a great song, "In The Kitchen" by Umphrey's McGee.
And don't forget the upcoming North Coast Music Festival (September 1-3) and Riot Fest (September 15-17) in Chicago this month.  The North Coast headliners include, among others: Deadmau5, Damien "Jr. Gong" Marley, STS9, Primus, and Ween—(I'd love to see Ween…).  Riot Fest will be hosting Nine Inch Nails, The Dirty Heads—(definitely worth seeing)—Queens of the Stone Age, Wu-Tang Clan, NFG, and many more of those nostalgic alt-rock bands that defined music for us millennials—a term I, for some unearthly reason, detest.
(P.S. Feel free to donate/sponsor a trip to one of these concerts—I'll even review it for you all.)